Beautiful Bestival part 2
By Gem - 15:24:00
My first Bestival post was a bit of a thank you to Echo Falls who invited me along and to all the girls who I spent time with that weekend. This time I'm going to share what I got up to and who I managed to see at the festival.
I left Cardiff early on Thurday and met Sarah at Porstmouth Harbour ready to catch the ferry to the Isle of Wight. I'd not been to the island for years and I'm easily pleased so I was really excited by the ferry. As soon as we arrived on site I was blown away by how beautiful it was. Josie Da Bank really does a great job as creative director of Bestival. There are so many flags and beautiful decorations on site. I loved the Bollywood Cocktail Bar, fancy dress and Ambient Forest. It's such a unique festival.




I met up with team Echo Falls at blue camp which was supposed to be quiet... There is a much nicer vibe on the campsite compared to festivals like Reading and V with a older crowd choosing to go to Bestival which made for a more fun and relaxed atmosphere instead of a GSCE results party.


Me and some fellow
Echo Falls
campers exploring the site.
I was surprised at how well I ate all weekend. Festival food is normally dodgy and from a van but I had a Wagamama veggie katsu curry and an amazing Byron Burger (may have had two... they were so good!) There were lots of cute stands with names like Crumpets for Strumpets and Tea and Toast but my favourite place on site was the Time For Tease tent where you could enjoy a spot of afternoon tea accompanied by burlesque.
All very civilised for a festival don't you think?
Musically, I think my highlight of the festival was seeing New Order who are one of my favourite bands. I was close to tears when they played Ceremony and Age of Consent although Bernard Sumner had a little dig at Morrissey who is another one of my favourites, leave it out Bernard!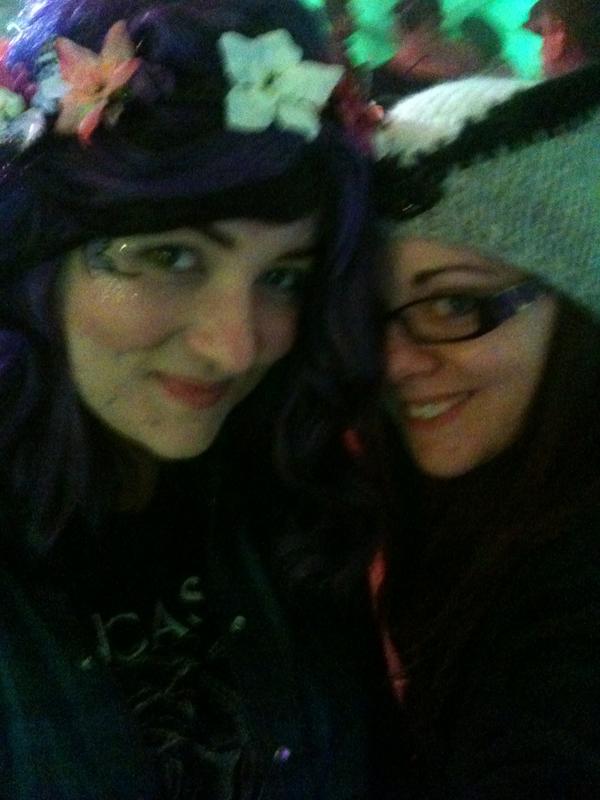 Here is me and Alex waiting for New Order to start. (nicked from
Alex
)
I also manged to see Two Door Cinema Club, Florence and the Machine, The Horrors (I saw all of these at Reading or in Cardiff this year) and I also caught some of Ben Howard, Stooshe, Delilah and The Lovely Eggs. It is one of those festivals that is about so much more than music. I saw three times the amount of bands at Reading but only had half as much fun
.
I treated myself to this gorgeous
Screenadelica
poster which I'm going to frame and put up in my bedroom. It is one of only 100 which is pretty cool.

My final shot is of the backdrop to the last song New Order performed. Hearing 20,000+ people singing Love Will Tear Us Apart was a beautiful moment. I really want to relive Bestival again next year, who's with me?!