Phew, it's been a pretty busy week for me so far. It was my brothers 21st on Monday and we went for a big family meal to celebrate. I ate waaay too much ice cream and driving home over speedbumps after the meal was not pleasant. I wanted to get my brother something special for his birthday but he was far more practical so I gave him money for his MOT, so boring right? I did make him a funny birthday card in the style of OK magazine with embarrassing photos on.


Penblwydd Hapus Geraint!!
My brother is a huge Nicki Minaj fan so we got him a Nicki cake which had lots of neon sprinkles down the side and we managed to eat it all in about four days. Best cake ever mmm. My brother Geraint tweeted Nicki a photo of the cake and she said happy birthday which meant that over a thousand Nicki fans have now wished him a happy birthday and the notifications on his phone are never ending!
I went to London on Tuedsday to see Madonna on her MDNA tour in Hyde Park. LMFAO were the support act and my eyes were ever so slightly offended by all the zebra print and neon but they were very fun. Madonna's set was very entertaining and mixed lots of acting and dancing. She can seriously move for someone over fifty, so flexible. Must be all that yoga! She ran around with a revolver pretending to shoot ex lovers, groped her toyboy and flashed her behind. Pretty much what I was expecting from Madonna. I would have loved to have heard a few more classic hits but this was the MDNA tour and not a greatest hits tour so I can't really complain. Were any of you there? What did you think?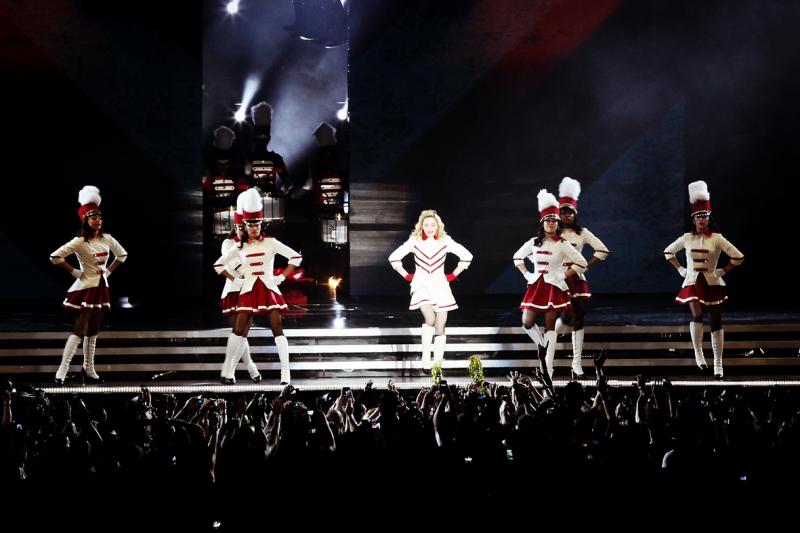 I went to The Delauney for breakfast the next day and there was such a lovely atmosphere in there. I went to the slightly less formal counter section and had some lovely English Breakfast tea and a bagel but you can get some lovely granola and pastries. Well worth a visit and I may pop back for the afternoon tea. I love people watching in London, I was sat in a cafe in Soho and saw Mark Gatiss and Masood's brother from Eastenders. Good minor celeb spotting there!
I didn't wear anything fancy to Madonna because it was in a field and it was boiling hot and raining so I wore my new Topshop t-shirt and denim shorts.
The t-shirt is a little see through but I quite like that and it will be coming to Reading festival with me and I'm going to get it in the black too. I wore my new F21 earrings which I'm in love with, they are big enough to make a statement but aren't too heavy.
I will be spending this weekend having a big lie in and taking my brother out to paint the town red for his 21st, can't wait!